---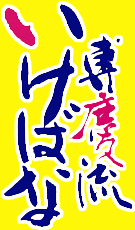 A historical sketch of an SENKEI-RYU 
---
An SENKEI-RYU is a school representing Japan inheriting old tradition and a grand classic flow.
To consideration of the person whom the flower arrangement that brought up Japan original life culture raised delicate sensitivity and sense of beauty of four seasons, and was able to go, a creature; consoled you, and was considerate, and fed sense of cooperation, and continued sending the message which was always new in a living as one of the Japanese living environment art.
An SENKEI-RYU is born in flower arrangement birthplace, Kyoto in 1669.
Thereafter when I am handsome with neatness and want to be always useful for a flower and green rich high creation and sensitivity congenial naturally while respecting dignity, even flower arrangement world maintains a situation of guidance firmly and makes an effort for culture uplift every day.
In March, 1977, an older brother of a writer KEISHIN succeeds to a 17's head master of a school and activity of eldest son Yasunori is remarkable now, too and devotes to creation of the further Japanese beauty and throws a ball for the flower arrangement spread with all efforts.
It is a KEISHIN NISHISAKA the 17th head master of a school / Senkei Nishisaka, a successor/ the Yasunori Nishisaka, vice-chief director
There is "RIKKA" "SEIKA" "MORIBANA" "NAGEIRE" "SYOHIN" "GENDAIKA" in a style.